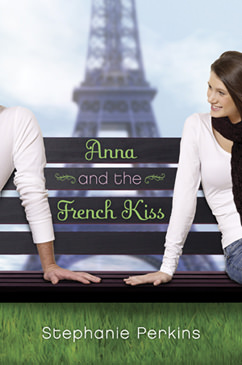 Title: Anna and the French Kiss
Author: Stephanie Perkins
Publisher: Dutton Juvenile
(December 2, 2010)
Anna was looking forward to her senior year in Atlanta, where she has a great job, a loyal best friend, and a crush on the verge of becoming more. So she's less than thrilled about being shipped off to the boarding school in Paris--until she meets Etienne St. Clair. Smart, charming,
beautiful
, Etienne has it all... including a serious girlfriend.
But in the City of Light, wishes have a way of coming true. Will a year of romantic near-misses end with their long-awaited French kiss? Stephanie Perkins keeps the romantic tension crackling and the attraction high in a debut guaranteed to make toes tingle and hearts melt.
*
---
Reread that last sentence of the summary for me. Sounds pretty cliche, right? Yep. It is. But it's also true. So true. I wanted to move to Paris, attend the School of American in Paris (SOAP), and find my own Etienne.
I was planning on making this a normal review, but I can't find anything non-repetitive to say except for the following:
Yes, the book was somewhat cliche. Yes, there were a few things that I didn't like. Yes, I am now in love with Stephanie Perkins. Yes, I highly recommend you go find a copy.
*summary from inside jacket